Alejandro Piñol - 
Manuel Saga
This proposal of a housing system is based on the nomadic village, an agrupation of temporary habitable spaces that answer to an specific socio-economical and political structure. It can easily change its function and its place.  This agrupation uses a necessary technical instrument: the trunk. It can have the form of a big wooden box covered in leather, or in the saddlebags of a dromedary, a nomad system needs an effective packaging and transport system.

El sistema de vivienda propuesto se basa en la idea de la aldea nómada, agrupación de espacios habitables temporales que responden a una estructura socioeconómica y política concreta y temporal, pudiendo establecerse en una gran cantidad de puntos del territorio siempre y cuando reúnan unas mínimas características infraestructurales. Esta flexibilidad atiende a múltiples variables a nivel de funcionamiento y lugar. Este tipo de agrupación precisa de un instrumento técnico indispensable: el baúl. Ya sea en forma de gran caja de madera forrada de cuero, o en las alforjas de un dromedario, un sistema nómada precisa de un sistema de empaquetamiento y transporte efectivo.
The main focus of the ALDEA system is to provide this transport instrument to the user in a highly optimized way. For that, it uses logics of miniaturization, removable structures, plug-ins, packaging tools, etc. This is the first draft of a sistemic plan for optimizing the inner logic of ALDEA, exploring how it can answer to extreme conditions. From the absolutely legal to the radically illegal, from the ostentatious richness to the zero cost, from the costumbrist folklore to the generic realm and the agressive branding.

El objetivo principal del sistema ALDEA es proporcionar ese instrumento de transporte al usuario de forma altamente optimizada, utilizando para ello lógicas de miniaturización, estructuras desmontables, plug-in, packaging, etc. Se realizará un enfoque sistémico de cara a optimizar la propia lógica técnica interna de ALDEA, sin perder la posibilidad de responder a los extremos de las distintas variables observadas. Desde lo absolutamente legal a la ilegalidad más contestataria, de la riqueza más ostentosa al coste cero, del folclore costumbrista a lo genérico y el branding agresivo.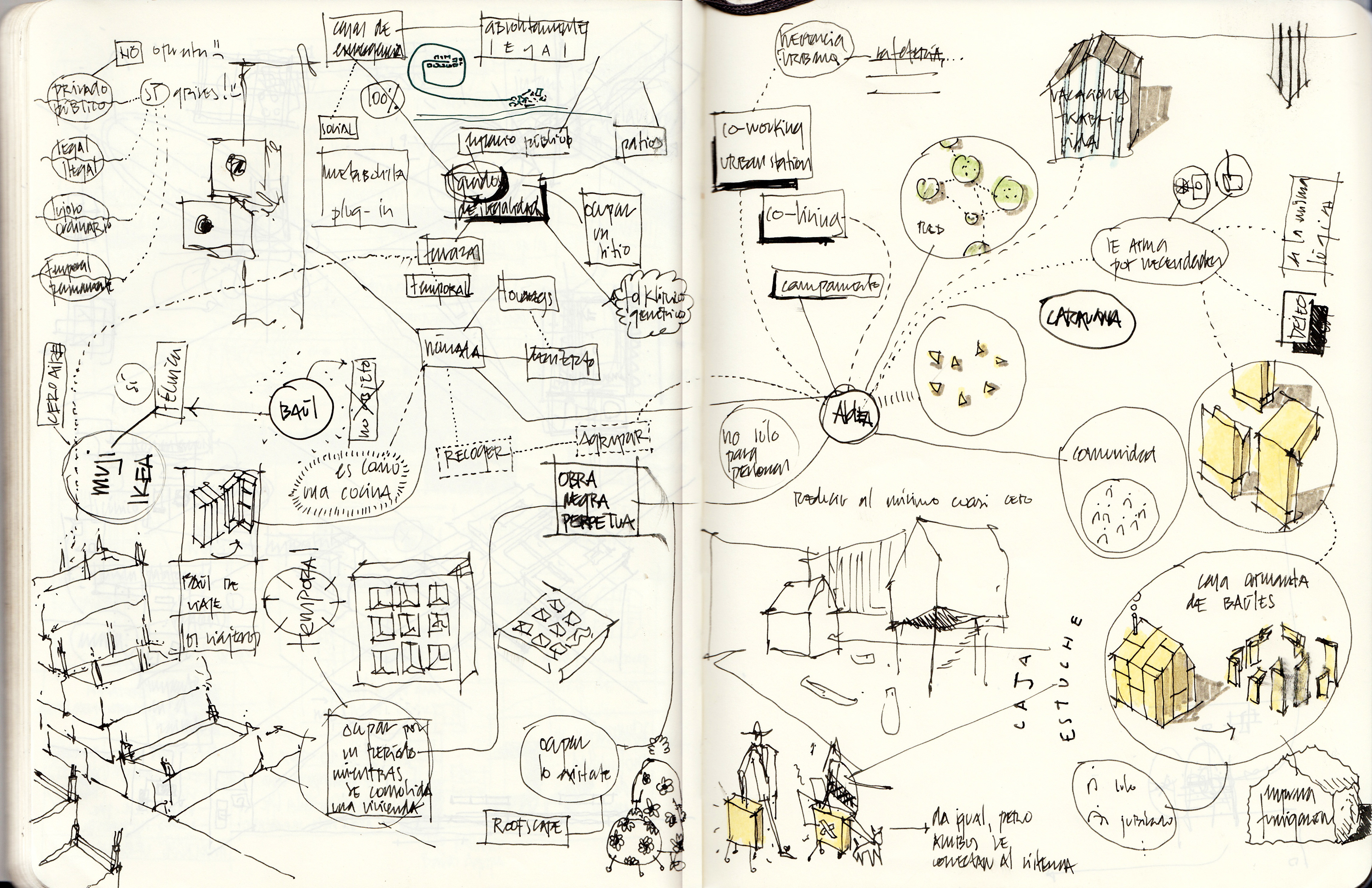 Vida: Asentamiento Nómada –
Es el tipo de asociación que establecen los usuarios de ALDEA entre sí. Presupone una economía de recursos compartida, la existencia de individuos de niveles económicos desiguales y, en general, una idea de colectividad no permanente, que renueva sus elementos y asociaciones según las necesidades de cada momento.           
Lugar: Espacio Ocupado/Okupado -
 Es el lugar o tipo de lugares en el que busca establecerse el usuario. Se presupone como un vacío temporal, espacio intersticial, altamente modificable y customizable por la agrupación. Al mismo tiempo, ALDEA tiene una relación con el lugar que deja una huella una vez que se ha marchado.
Técnica: El Baúl

–
Es el objeto propiamente dicho, capaz de replegarse y contener en si mismo todos los objetos y bienes que precisa el usuario. Como un estuche, tiene un espacio especializado para cada utensilio y objeto, que se empaqueta en el mínimo volumen posible. Cuando se despliega alberga un uso propio, y se pone en relación con los baúles de otros usuarios en una asociación colectiva. El baúl responde a todos los parámetros definidos por el usuario, al tiempo que combina diferentes soluciones técnicas que también pueden definirse.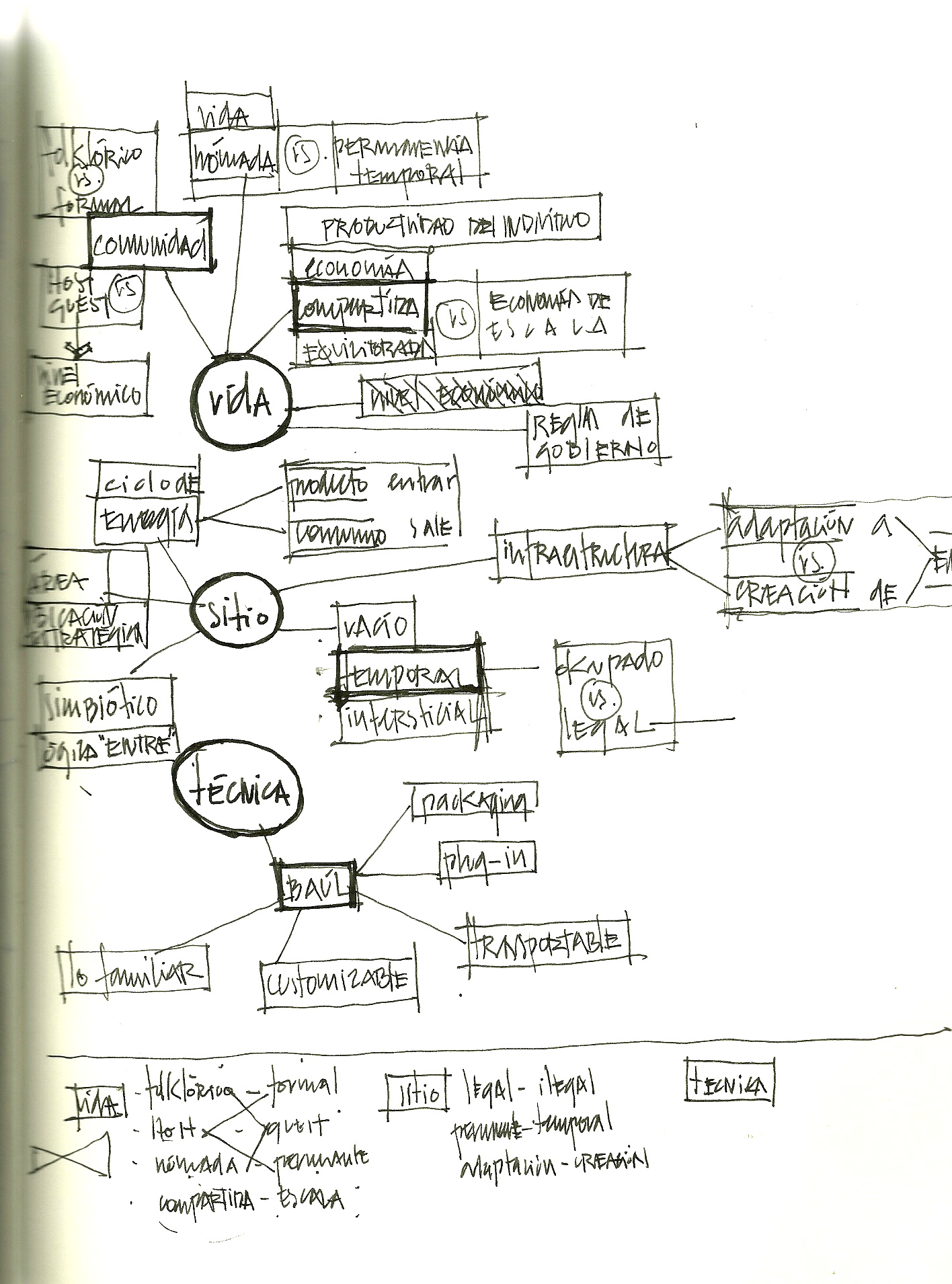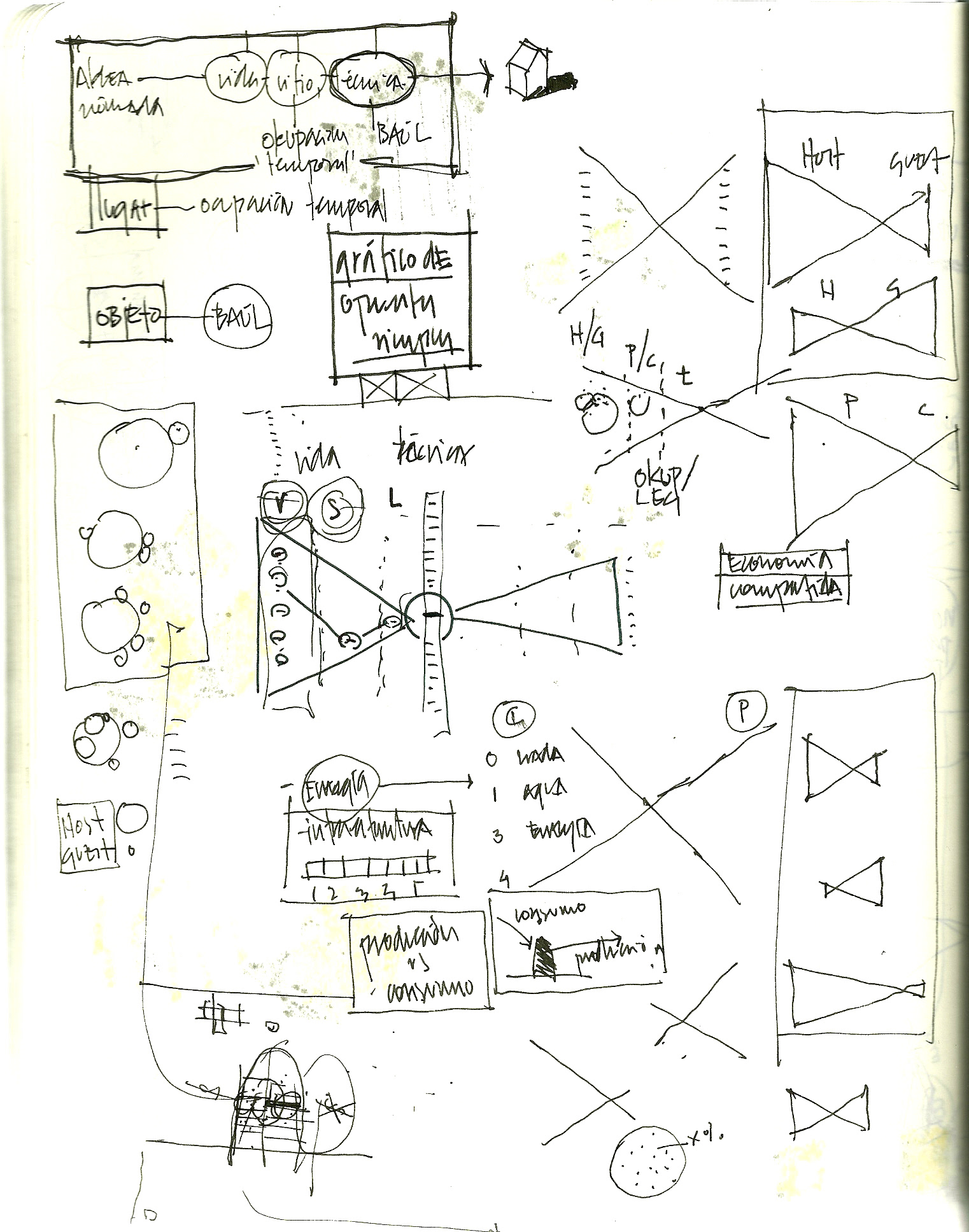 Host/guest

–
En todo asentamiento existen usuarios recién llegados a los asentamientos o "guest", que precisan del apoyo de otros usuarios que llevan más tiempo en el sistema y que se denominan "host". Un usuario con un alto nivel de nomadismo será "guest" en muchas ocasiones y llegará a convivir con muchos otros usuarios, mientras que un usuario relativamente estático será "host" de una comunidad y contribuirá a la sostenibilidad del sistema.
Asentamiento

-  
Es la agrupación de un grupo de usuarios con un baúl propio en un lugar concreto. En el asentamiento la economía se produce de forma compartida, y responde a una estructura social y unos objetivos concretos.
Nomadismo

- 
Un usuario siempre tendrá la posibilidad de cambiar de lugar, según sus capacidades económicas y la oferta de lugares disponible/apropiable. En el sistema ALDEA no existen usuarios completamente estáticos.
Regla de la herencia

-
Un usuario no podrá extraer de un asentamiento una mayor cantidad de bienes que aquellos que trajo consigo en su baúl. Si su baúl posee una alta flexibilidad, puede que no salga del asentamiento con los mismos bienes que con los que entró. Por el contrario, si su baúl está muy especializado, su capacidad estará reducida a un grupo muy concreto de bienes, y todo aquello el usuario haya producido dentro del asentamiento de forma adicional, se quedará dentro del propio asentamiento.
El sistema ALDEA, aún en desarrollo, posee una fuerte intuición de producto que proviene del diseño industrial, de empresas como Muji o Ikea, y de proyectos de vivienda mínima y temporal como los desarrollados, por ejemplo, por los metabolistas japoneses.

"Este sujeto es convertido en objeto de un sistema operativo, el del capitalismo tardío, que exige una diferente identificación del cuerpo social con sus propios procesos de crecimiento, atomización, ubicuidad y globalización."
​​​​​​​
Iñaki Ábalos, sobre los proyectos PAO1 y PAO2, del arquitecto Toyo Ito,
La Buena Vida,
Gustavo Gili, 2001.